Well it's all done and dusted for another year. Father Christmas came and went, dropping me off a load of goodies on his way with my Garmin 305 being the number 1 (look out for lots of my training routes appearing
here
). The family as always have been legendary and looked after us superbly, especially when I went running and brought the dog back looking like a mud ball on legs. Thanks folks.
So it's been over a week and a half since the last post, so what's been going on? Well mostly Shell has been full of the lugie and being the sadist that I am I've been taking the mickey lots :) . I'm just waiting until I return to work when I'm bound to come down with it and allow Shell to extract her revenge!!!
Training wise there has been lots of running and very little else. To quickly update the totals since the last blog Tuesday 18th - 45min run, Wednesday 19th - 30min run, Thursday 20th - 1h15m run, Friday 21st - nothing :(, Saturday 22nd - 2hr gym session, Sunday 23rd -------
Torrington Christmas Caper!!!! (Rosie's first race)
I woke up nice and early and sorted out the masses of gear required for the days racing. Todays race was going to be the debut for the pup and her bag of gear (prepared lovingly by a very ill Shelly) was bigger and heavier than mine. Out to the car to get rid of the biggest frost of the year, then we were off to Torrington for 10miles of hills and mud. Arrived miles earlier than I would normally have done which must have been more my worries about the dog than anything else. She'd never clocked double figures before and running on the lead has been kept to a minimum so it was going to be an interesting day. Before the race it was mad...... so many people for the dog to jump up and introduce herself to, the mad hound. I tried to explain to her she'd need all her energy later, but my 'Dog' is as bad as her English.


Finally we headed out to the start and I made sure we were right at the back to keep the pup from harms way. The first 2 miles were very VERY steady and for the first mile I 'ran' alongside Simon (my Tri clubs only other representative) at the very back of the field (he was accompanying the wife and her bunch of Spice Girls). Slowly but surely the field started spreading out a little and we'd put a bit of effort in whenever there was a gap big enough for the dog to safely negotiate her way through. The old flooded farm lane was slower than normal as I waded and the pup swam her way along. A couple of eager beavers unceremoniously barged their way past which seemed a bit odd considering how far back we were, but once on terra firma we soon shot past them again, that felt quite good. Apart from this section and a small doggy poo stop we were never passed and just steadily made our way up the field from start to finish. It was quite funny when we got to that point where the people we were passing were competitive. They'd pick up the pace and run alongside us when they realised it was some bloke running his dog, then they'd blow a gasket and drop off the back rather sharpish . Even up the last climbs we were still passing people and when the finish came we'd worked our way up to 34th place in 1:17:48 which wasn't to bad at all considering. Simon finally stopped staring at the Spice Girls backsides to work his way up to 136th in 1:37:07. After the race Rosie spotted some old friends and charged off at full pelt as if she'd been cooped up all day - that dog's got far too much energy.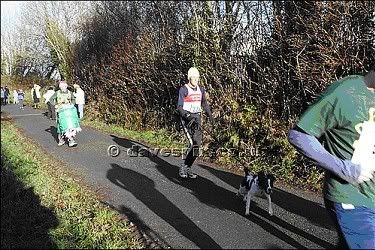 Christmas Eve was spent sorting things out and driving the 3hrs up to my parents help so there was no training going on. On Christmas Day however, once the family had gathered and unwrapped all of their goodies I managed to sneak off for a muddy 9.5mile run with Rosie. Then it was down to my ikkle Sis's for Christmas dinner and an afternoon playing with my nephews new Nintendo Wii (my shoulders are still aching).
Yesterday I took my new Garmin 305 out for its maiden voyage around what's probably my very first run course, my Aunts 10k and aptly named 'Suicide loop'.
Today I ventured out with the pup for a repeat of our Christmas Day jaunt. It was slightly less muddy than last time out but just as much fun, even if my legs were feeling a little tired. It's quite heartening to look at the new Garmin when you're feeling tired and see that you're still travelling at a decent speed though and that helped at times.
Now we're back home in Devon. The family break was cut short by a couple of days due to Shell being in lurgieville but as always we were well fed and watered by the folks. Thanks folks :))
Tomorrow the build for Florida starts (maybe!!!)